Carey Bell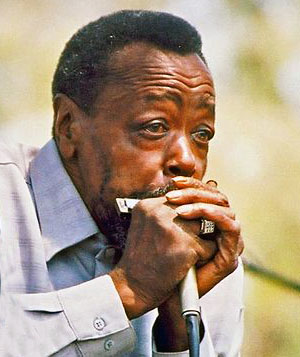 Кратко
Carey Bell (November 14, 1936 - May 6, 2007) was an American musician who played the harmonica in the musical style of Chicago blues. Bell played harp and bass for other blues icons for decades, including Earl Hooker, Robert Nighthawk, Lowell Fulson, Eddie Taylor and Jimmy Dawkins.
Bell was born Carey Bell Harrington in Macon, Mississippi. As a child, Bell was intrigued by the music of Louis Jordan. Bell wanted a saxophone in order to be like his hero Jordan; however, Bell's family could not afford a saxophone. Bell had to settle for the "Mississippi saxophone", a harmonica. Soon Bell was mystified by the Blues harmonica greats: DeFord Bailey, Big Walter Horton, Marion "Little Walter" Jacobs, and Sonny Boy Williamson (I and II). Bell taught himself to play, and by the time he was eight he was quite proficient on the instrument. When he was thirteen, Bell joined his godfather Lovie Lee's Blues band.
In 1956, Lovie Lee convinced Bell to go with him to Chicago, a city then electrified by its own Blues scene and sound. Lee and Bell arrived in Chicago in September of that year. Not long after arriving, Bell went to the Club Zanzibar where Little Walter was putting on a show. Bell met Walter and soon became his student, learning from the master his tricks of the blues harp. To help further his chances of employment as a musician, Bell learned how to play the electric bass (from Hound Dog Taylor). Bell was then fortunate to meet and learn directly from Sonny Boy Williamson II and Big Walter Horton. Horton eventually hired Bell to work with him. Bell learned the inner workings of great blues musicianship and was about to embark upon an often unrecognized and under-appreciated musical career.
Despite Bell's mentorships with some of the greatest blues harp players the genre has ever known, he came into Chicago at an unfortunate time. The demand for harp players was decreasing in Chicago as bands were on the lookout for hot electric guitarists. To pay the bills, Bell continued to play bass and joined several bands as a bassist. Bell scored a gig as Big Walter's bassist, during the time of which he furthered his passionate study of the Mississippi saxophone with Big Walter himself. Soon after, Bell cased up his bass and polished his harp, returning to the scene with his beloved instrument.
In 1969, Delmark Records in Chicago released Bell's debut LP, "Carey Bell's Blues Harp". Bell later played with Muddy Waters and Willie Dixon's Chicago Blues All-Stars. In 1972, Bell teamed up with Big Walter and released Big Walter Horton with Carey Bell for Alligator Records. A year later Bell released a solo project for ABC Bluesway. Bell continued to play with Dixon, and in 1978, Bell was featured on the Grammy-nominated album Living Chicago Blues on Alligator.
During the 1980s Bell continued to record, but he was mostly preoccupied with live performances. In 1990, Bell teamed up with fellow harpists Junior Wells, James Cotton and Billy Branch to record Harp Attack! A modern Blues classic, Harp Attack! became one of Alligator Records's best selling albums.
Despite years in the business and work with Alligator, Bell's first full-length solo album for the label had to wait till Deep Down released in 1995. On the album, Bell's signature harp style is on prominent display. A seminal piece of modern blues, Deep Down gave Bell much deserved recognition outside of the blues circles in which he was already legendary.
In 1997, Bell released the second album on the label Good Luck Man, which was less raw than its predecessor but nonetheless highly listenable. Second Nature followed in 2004, a duet album with his guitarist son, Lurrie Bell (who shared the guitar duties with Carl Weathersby on Deep Down). The overall appeal of Second Nature is that the entire album is a single take with no overdubs.
In 1998, Bell was awarded the Blues Music Award for Traditional Male Artist Of The Year.
Carey Bell died of heart failure on May 6, 2007 in Chicago.